Hewes Redfisher 18 Boat Review
The Hewes Redfisher 18 is one of the best all-around skiffs built today. It is also the boat that started the flats-boat revolution. Read below to learn what makes this boat so good.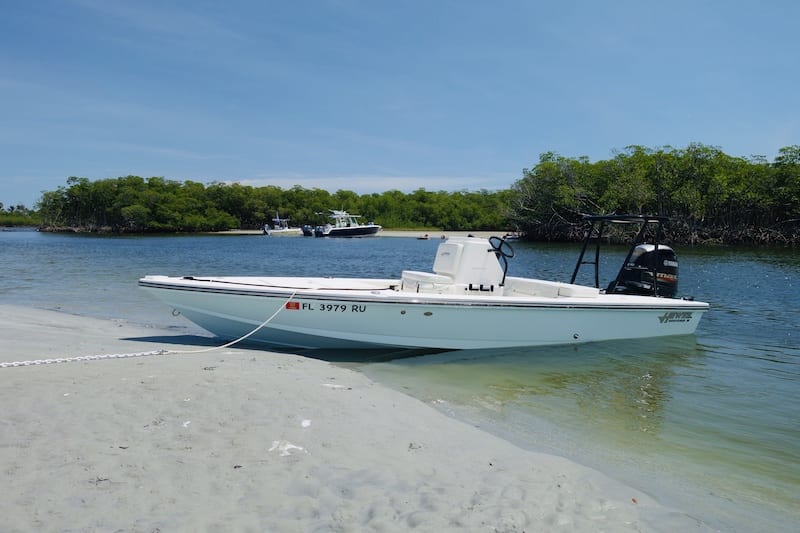 HEWES MODELS
The Hewes lineup of boats consists of the Redfisher 16, 18 and 21. Of all the boats, the 18 is the most popular and, in my opinion, is the best one in the lineup. You can find access the manufacturers page HERE.
BOAT RIDE TO JEWFISH KEY ON MY HEWES
ALL AROUND PERFORMER
The Hewes Redfisher 18 is a great all around performer. The boat obviously fishes well but it also is comfortable enough for a family of four to cross big expanses of open water and equally at home relaxing at the sandbar. The boat is good at a lot of things, not just fishing.
ADVANTAGES
Incredible Ride for a Skiff
Very Stable
Spacious
Great Storage
Great Looks
THE TOP FLORIDA HOTELS WITH BOAT SLIPS
DISADVANTAGES
Wet Ride in Certain Conditions (common with most skiffs)
Slippery Non-Skid When Wet (definitely wear shoes)
Possible Water Intrusion Behind Console Cushion
VIDEO REVIEW
SPECS
Length: 18 '10"
Beam: 7′ 11″
Draft: 10″
Weight (hull only): 1900lbs
Max Persons Capacity: 4
Max HP: 150
MY HEWES TRAVELS
My Redfisher 18 has taken me all over Florida. I've been to freshwater springs, lakes, rivers, and almost all the coastal areas Florida has to offer. It's been a great boat and a joy to trailer with my Toyota Tacoma. If you are in the market for a flats boat/skiff, make sure to check out the Hewes Redfisher 18.
SELLING MY HEWES?
Wait, what? Yes, despite all the praise I'm selling my Hewes. I've decided to sell my boat because I have a Classic Boston Whaler that I'm going to use for a short time before I buy a bigger boat. My Classic Whaler is the boat I grew up with and I can never sell it. Truthfully, the Whaler and the Hewes both do almost the same thing (shallow water cruising, sandbars and trailering). Consequently, I'm going to eventually get a bigger boat (bay boat) to diversify. Click HERE to learn all about my classic Whaler. For more information on my Hewes listing click HERE.
Consider Boat U.S. for your boating needs.  They are a great organization that provides numerous resources to improve your life on the water AND trailering your boat.  Click HERE for more information.
The post Hewes Redfisher 18 Boat Review appeared first on Lazy Locations – Florida.
Lazy Locations
#clearwaterflmortgage #mortgageclearwaterfl #clearwaterfl, Boating Information, Boats, fishing boats, flats boats, florida skiffs, hewes, Hewes boats, maverick boat group, mortgage clearwater florida